What Is My House Worth?
This is a critical question to answer, particularly if you wish to sell your house sooner rather than later.
How do you find out its value?
And what can you do if you want to increase its worth on the market, for whatever goal you have in mind?
We will discuss all these pressing issues in this post so read on.
What Is My House Worth?
What can my house worth be? is a good question even if you do not plan on selling right now.
Of course, this is a primary reason it may be on your mind and knowing the answer does allow you to set a realistic, reasonable asking price.
Why else is it beneficial to know your home's worth?
When remortgaging: If you want to remortgage, you will need to know your home's value. Lenders do not want to take a big risk on your home; if your value is higher, your mortgage terms will tend to be more favourable.
When planning extensive projects and improvements: This is another instance where you should know how much your home is worth and whether remodeling the kitchen, revamping the bath, adding an extension, etc., will give you the return on your investment you need. You will also need to establish whether you will be able to secure financing from a lender, should you need it.
How do you determine the property value? There are a few options you can use:
Hire a valuation professional. This is the most accurate method (closely followed by estate agents which we will discuss). This will give you a great idea of your home's worth – by that we mean what people would be willing to pay for it on the open market. It can also give you some handy insights when it comes to improvements you may want to make.
Ask three estate agents for a valuation. Invite three estate agents to your home; they will conduct a valuation. These are also highly accurate as experienced agents use their knowledge of the market, comparable sold properties, etc., to gauge your home's worth on the market. They do this free of charge typically; it's a chance for them to check out your property and pitch their services to you.
Use online tools. There are several online sites that can give you a general idea of your home's value. They show you properties that are similar and what they have sold for. Try Zoopla, YOPA, Rightmove, sold.com, and the Land Registry.
How Do I Add Value?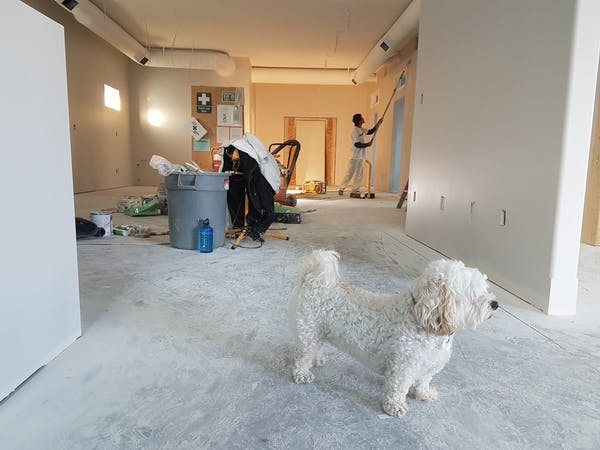 Now that you have an idea of your home's worth, you can take steps to increase its value. How? Steps range from simple and budget-friendly to more involved and 'investment' level as shown below.
Simple and Budget-Friendly Ways to Boost Home Value
Refresh your rooms with a coat of paint. This can work wonders for your style – and even boost your asking price by 5%. Not bad for a few pots of eggshell white! If you are considering selling or are trying to sell, opt for neutrals.
Do a thorough deep clean and declutter. Whether you do a Marie Kondo approach or just jettison everything that is weighing you down, this can help create a more functional, comfortable space and increase your appeal to buyers.
Polish, shine, or replace hardware. Make sure doorknobs, cabinet and drawer pull, faucet handles, etc., are spic and span, shining, and in good repair.
Weed your garden, cut your grass, trim your trees and hedges, and plant some bright, welcoming flowers in either a bed or in attractive containers.
Repaint your front door.
Pressure or power wash your exterior and any walkways and drives.
More Intensive and Expensive Methods to Boost Your Home's Worth
Replace the roof.
Renovate the kitchen and/or bath.
Build an extension (single storey or double storey).
Replace the plumbing and/or wiring systems.
Install a new, energy efficient heating system.
Install new energy efficient appliances.
Replace doors and windows.
Get an energy audit (and your Energy Performance Certificate) for ideas on improving efficiency – including cost
Replan and replace your front garden and drive with an optimal layout that enhances draining, practicality, functionality, and aesthetics.
Instruct a team of professional landscapers to redo your exterior space; this can boost market value by 3%.
Now you have information, you can develop a plan to determine your home's worth and how to increase it to sell it quickly at a competitive price.