Traditional bathroom ideas and designs are inspired by concepts, decorations and collections from historical eras. The major styles that come to mind when one thinks of traditional bathroom designs and styles from the colonial and Victorian era.
Nevertheless, an era does not necessarily have to be attached to a particular design. Small traditional bathroom ideas reflect what it isn't, rather than what it is – and in this case, it is not minimalistic, contemporary, modern or sleek.
Let's consider some tips that would help generate the best traditional bathroom ideas:
A traditional bathroom requires the installation of traditional showers
It features freestanding baths
You can use traditional style radiators
Traditional taps are included in its design
Use traditional bathroom furniture with vast storage space
Colour is also important; certain shades of blue are classic to use.
You can use nice textures to decorate your bathroom
A built-in dressing table is needed
When it comes to bathroom decoration, Victorian-style works perfectly.
Use a wall treatment
When designing a bathroom based on traditional concepts, the surface is an important element to consider. For example, most countertops feature natural materials such as granite, slate or stone. Also, your choice of tiling could range from historical to modern, which can include penny, hexagonal and subway tiles. You could as well combine different bathroom items from different eras to produce a perfect traditional bathroom design. You can for example check the bathroom company range at Victoria Plum for more ideas to create a vintage bathroom style that is heritage-inspired. You can come up with a unique design that may not necessarily be disharmonious.
Traditional bathroom designs often feature materials that are mainly natural. You can use high-grade woods to design your chairs, benches and sink cabinet bases. Colonial bathrooms feature wood materials like oak, maple or/and cherry. Sinks and other bathroom fixtures are made from material components from stone or porcelain that appear historic. To further give a bathroom a vintage feel, a basin, pedestal, and console sinks are installed.
With the right type of material, you can improve the look and feel of a vintage bathroom – classic porcelain is an ideal material for such enhancement. Other types can incorporate the use of wood and even metals such as bronze or copper.
Stone Enclosure
One of the factors that make a bathroom unique is the ability to furnish it whichever way you want. You could combine delightful fixtures with stylistic surfaces. A bathroom floor can be made of tiles, while its doors are made of glass. The combination of these different materials creates a unique and classy bathroom theme.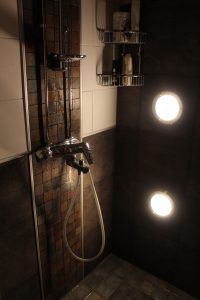 Traditional Perspective
Your bathroom does not necessarily have to be influenced by restricted space. A bathroom can have a curved doorway with a stone-look veneer finish. Having that all over the home gives a historic vibe. The styling can be more enhanced with surfaces made of dark wood and natural stones.
A Vintage Feel
Bathroom cabinet doors and drawers can be made of a vintage glass finish that ups its traditional look. Such a design provides a classy feel without interfering with other contrasting bathroom features.
Lighting Style
To create a unique ambience in terms of lighting, your bathroom should have a window – preferably a porthole-style. Having natural light in your bathroom produces a unique radiant vibe, besides retaining enough steam to give you an amazing bathroom experience.
Contemporary Convenience
You can include a handheld showerhead in the marble shower enclosure. This can also be paired with a ceiling-mount rain-style which is mounted above. The adjustable mount can be connected with a wall bar providing you with various options for other bathroom fixtures.
Traditional bathrooms create awesome bathroom experiences when designed the right way with the right materials. There are various bathroom styles that are available to give you an amazing home feel. To find out more about different bathroom designs, get inspiration from The Bath Co. 
For more Green Living Room Ideas or Green Living Tips for your Home Office check out the Green Living Blog.