It is with no doubt that the jewellery which we see today is thanks to the women of the 19th century. They paved the way for the wonderful styles that we adore to wear. Not to mention a female jewellery designer is much more common than a man which is understandable. At the end of the day, women are the people who tend to wear jewellery most often.
It is a unique talent that is often found in a woman as well, not to say that men are incapable of designing jewellery as that is certainly not true. It just seems to be more common for a woman to have the skill of art & design compared to a man.
There is a lot of history behind women's jewellers and there is probably a lot that we do not know about. Nonetheless, there is a lot of information out there about our beloved female jewellery designers that paved the way for our modern makers.
1. Charlotte Isabella Newman (1836-1920)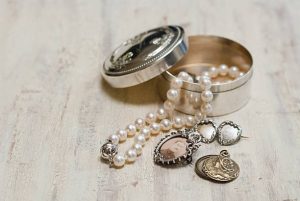 One of the most spectacular women to ever design jewellery, simply because it was at a time when the jewellery industry was heavily dominated by males. Her jewellery career began in the 1860s furthermore and it took off rapidly. During her time as a jewellery designer, she was rewarded with many medals, she even had her jewellery store.
Where did it all start for Charlotte? Well, she began to learn at the Government Art School, located in South Kensington and is still there today under the name 'Royal College of Art'. Her talent was above the rest, and it is something that is still appreciated by modern jewellery designers today. She did something that many other women could not achieve back then which was to own her own business with men working for her.
2. Jeanne Poiret Boivin (1871-1959)
Meet Jeanne Boivin, another well-known jewellery designer that is highly respected within the industry. However, she had a slightly different career compared to Charlotte Isabella Newman. She ran the house of Rene Boivin alongside her husband until he passed away at the age of 53, in 1917. After her husband's passing, she took over the business and took it to the levels of fame that it reached in the early 1900s.
It is quite a remarkable story of Jeanne Boivin. She lost both her son and husband during the war, which forced her to bring up her two daughters on her own, forcing her to take over the business and continue its legacy.
3. Jeanne Toussaint (1887–1978)
Jeanne Toussaint, the director of Cartier's luxury jewellery department before taking over in 1933, is another well-recognised name in the industry. She was at the forefront of moving the traditional style of art deco jewellery to a more figurative style. Additionally, she is the woman behind the famous Cartier's whimsical birds, with her most famous piece being the caged bird which Cartier released in 1940, symbolising resistance against Nazi Germany. Jeanne oozed luxury, not only with her extravagant designs but also in her lifestyle, strutting around in panther cots.
4. Marianne Ostier (1902-1976)
Marianne Ostier was the primary designer behind the famous Ostier Inc which was founded in 1938. She won many awards for her flawless diamond jewellery designs. During the second world war and the annexation of Austria, she and she were forced to move to the United States to launch a jewellery business under their name.
Her vintage jewellery is still loved today, with her pieces recently being sold at Sotheby's auction house. Whilst in the United States, Marianne developed her unique style which swerved away from the standard style of symmetrical jewellery. A style that was loved by many who wore jewellery in the 19th century and a design that still exists today.
Summary
Many influential female jewellery designers cemented their names in the history books. Furthermore, there has also been a lot which has not been recognised and their names will forever be unknown. Jewellery has changed in its design over many years now, ranging from signet designs to beautifully crafted art deco-inspired jewellery and many choose the ideal jewellery for their lifestyles today for practical reasons. However, people still love stunningly designed jewellery pieces that are unique and many Hatton Garden Jewellers offer customised jewellery.