You may have seen plenty of articles that tell you what to do with storage, but we instead tell you what not to do when storing your precious household items in a London-based unit for storage Clapham for example.
If you need to put a few things away for whatever reason, please do.
However, there are a few decisions to make when it comes to rental storage, and we want to make sure you don't make any of the below mistakes.
1. Don't choose the wrong size storage unit
This works both ways because we don't want you to select a storage unit too big and waste money and we also don't want you to miscalculate and select one too small and end up damaging your valuables by crowding them in.
Sure, a little crowding is okay and we all tend to make the most of the space we get. However, if you rent storage in London's Clapham or other areas in the UK make sure to select a unit that fits your storage needs.
If you need to put away a few boxes, a small 12-square foot unit would be perfect.
If you need to put away furniture or plenty of suitcases, you might want to opt for a larger 50-square foot unit.
2. Do not put money in your storage space
If you have loads of money that you want to put away, your storage unit is the wrong place to put it! It has to be put in the bank, its rightful place, and shouldn't be put in a storage unit.
Of course, it will probably remain safe because storage units are secure and your money won't get into the wrong hands. However, it is overall a bad idea and we would suggest you avoid this.
After all, nothing is foolproof and if it does get lost, there may be a bigger problem making a claim. It's best to keep cash away from your storage units.
This also goes for prize bonds, stocks, etc., you can easily keep these documents in a drawer on your side table rather than put them away in a storage unit.
3. Do not choose a storage facility without enough security
Usually, most facilities have plenty of security such as an alarm system, padlocks, and CCTV surveillance. However, make sure that your facility offers all of these measures and perhaps more to ensure your valuables stay safe.
Do not choose a storage service that only offers padlocks or flimsy security measures. If your service requires you to arrange for your own security with your own locks, this may also be a bad idea.
Good facilities have security arrangements in place with CCTV surveillance, alarm systems, and guards at times.
STORED does not allow customers to access the facility but only allows team access. Therefore, this is an added security measure to keep your valuables safe.
4. Do not opt-out of insurance
If insurance for your valuables costs a little extra, do not opt-out of it. Traumatic incidents happen without warning such as fires, theft, natural disasters, etc. and insurance will help you a lot when it comes to making claims.
Your things will remain safe and if they don't, you don't lose out at all. Your insurance covers any loss or damage and you don't have to worry.
If you opt for STORED, your storage package includes insurance worth £500. You can purchase additional coverage if your belongings are well over this amount.
5. Do not arrange the moving van last minute
Renting a moving van last minute is going to increase the cost and you never know, your transport may never show up. This is going to keep you held up. Choose a logistics service one week prior to the day you want to move your things to a storage unit.
You may also need loading assistance and you can either ask friends or hire professionals to do the job for you. Again, STORED offers a service that includes a moving van and removals specialists, making the move much simpler.
Your moving van should also be big enough to store all your belongings especially if you have large furniture and big boxes to move to your new dream house. Make sure you mention what you are planning to store to your logistics company or your storage company if they are providing the transportation.
6. Do not store forbidden items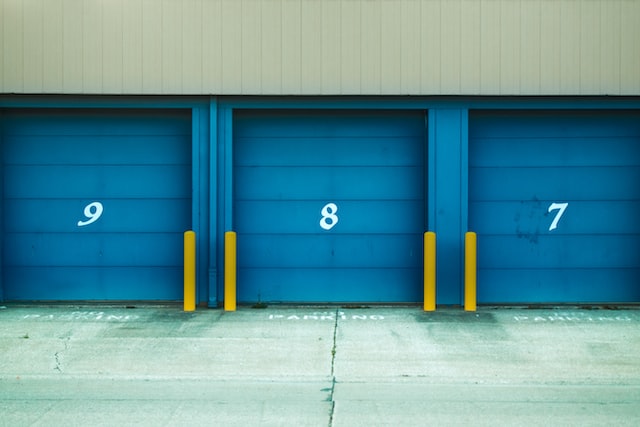 It's not a good idea to store any of the forbidden items on your storage provider's list. These may include drugs, weapons, ammunition, perishable products, food, flammable products, etc.
It is illegal to store some of these things and can result in strict action against you. Moreover, storing such products may cause harm to the whole facility and may result in charges being pressed.
Also, if you have food or other such things in your stored items, they may be discarded by the storage personnel immediately. Therefore, it is best not to keep these things in your stored items and abide by the rules.
We mean, there is a long list of things you CAN store so why would you want to store chickpeas and cucumbers (or cocaine, for that matter),
7. Do not make a hasty decision
The one thing you should never do is make a hasty decision when choosing a storage service.
Don't just select one randomly and hand over your valuables to them. Do your research, look over the offers they are making, and what type of security they are offering.
If you want to store for the long term, you need to check out long-term offers and look for the best deal you can get. And of course, you need a reliable storage service that can safely keep your belongings in the long run.
Closing Thoughts
Now that you know which mistakes to avoid when it comes to storing items, make sure you opt for a storage service that ticks all the boxes. Choose and store wisely and you will be just fine! STORED offers a great storage Clapham service which collects your belongings from your doorstep. If you are looking for a hassle-free experience, choose STORED to make the right storage decision.